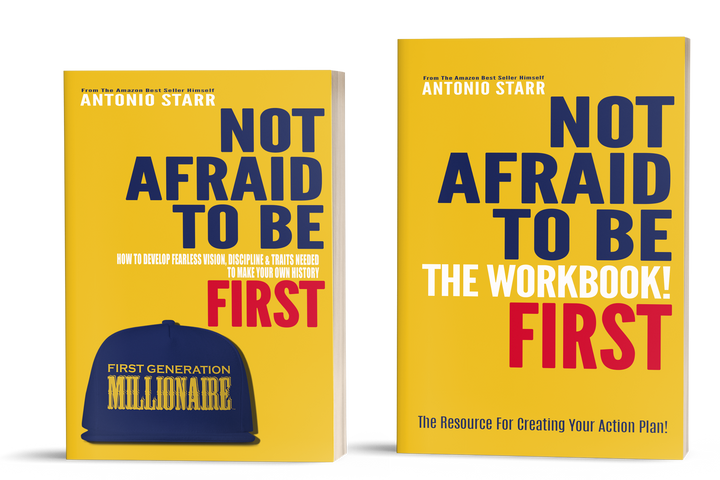 Not Afraid To Be First - Book and Workbook Bundle
Regular price $35.99 $24.99 Sale
NOTE: This bundle includes the autographed copy of Not Afraid To Be First & the accompanying workbook. 

 Whether you're just starting high school, been in corporate America for years, are an aspiring entrepreneur or you just want to live your best life.
Not Afraid To Be First
is your hand-held and hand-holding guide to extracting your absolute best self.
It doesn't matter what you may have or have not accomplished in the past.
Regardless of whether your family created a legacy of wealth or lack, you can still create the life and legacy of your choosing, for your future generations.
It's never too late (or too early) to be the you that you've dreamed of.
Join Antonio Starr, former underachiever turned life and leadership coach as he shows you:
How to build a legacy of relevance by first destroying mental, physical and relational barriers to growth
How to become your most audacious self with zero regards to others opinions
How to force your fears to push you forward instead of pull you back
How to do something every day that scares the crap out of you
Why it's important to celebrate yourself consistently
The art of casting your vision into the universe.
The vital importance of having a Pacemaker in your life
How to identify when it is time to quit for the sake of winning
How to create an action plan based on a clear vision and realistic yet challenging timelines
How to learn more, try more, do more, fail more, win more, and be more!
Not Afraid To be First includes real-world stories of everyday people like you who have overcome fear and stretched themselves to greatness. There is also an accompanying workbook filled with insightful Q&A and an actual fill in the blanks action plan designed with your growth in mind.
Who is Antonio Starr?
 When asked Antonio typically responds with "I am the guy who graduated at the bottom of his class that now helps others get to the top of their purpose." He is a #1 Amazon Best-Selling author, and life/leadership coach. Antonio has been featured on several podcasts and his platform is growing by the day.